The restaurant
Provençal gastronomic cuisine
in Châteauneuf du Pape
Make the cuisine we love, love the cuisine we make, make our hosts discover and share our passion with them for the pleasures of cooking that, as Brillat Savarin said so appropriately, the gastronomic prince, « is of all ages, all conditions, of all countries and all days ; he associate himself to all others and remain as the last one to console us from their loss » !
Book a table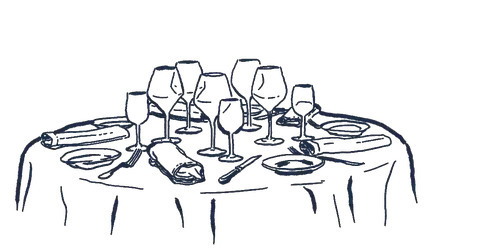 A local cuisine
Gastronomy and love of cooking
We love to go meet the farmer from Orange who provide the poultry, our local cheesemaker who mature her own products, our truffle supplier where it smell so good every morning, our snail supplier who raise them himself, our butcher who patiently dry age his meat and all the other local producers, enthusiasts of french-style good eating and living.
We also like to discover and rediscover the exceptionnal wines of our winegrowers friends who produce them with so much love and know-how.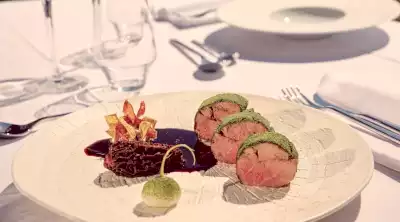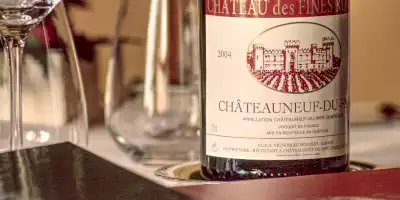 Our wines
The Fines Roches restaurant's cellar
In the heart of the vineyards of Châteauneuf-du-Pape, our cellar is one of the most well-stocked with references of this appellation in the whole region. More than 50 domains of Châteauneuf-du-Pape are being represented and about 800 references are available. You will also find some very nice wines of neighbouring appellations such as Gigondas, Vacqueyras, Lirac and a little further such as Condrieu, Côtes Rôties, Saint Joseph, Hermitage. We also have some very nice references of burgundy wines and from other regions of France.
Our sommelier will be pleased to advise you about the wine that will best accompany the dishes you have chosen.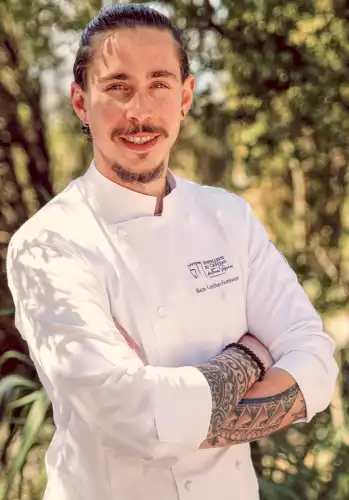 The chef
Hugo LORIDAN-FOMBONNE, a disciple of Escoffier
Born in le Gard, Hugo was very quickly passionate about cooking. At 9 years old, he was preparing the family meals with his mother. Gardois de
During his career development, Hugo could discover Spanish cuisine and then the English cuisine in order to refine his knowledge and obtain his BTS in 2014.
He quickly made his mark in the kitchen, alongside our previous chef, who during five years could pass on his knowledge and culinary skills to him.
Hugo LORIDAN-FOMBONNE participated in different contests like "Jeune Talents Maitres Restaurateurs" and also "Jeunes Talents Disciples d'Escoffier" where he could stand out by ending up on the podium.
He recently won the Rencontres Gourmandes contest organised by Vaudieu Castle with two desserts of which he holds the secret. These desserts are on the menu so you can come discover them during a gastronomic meal.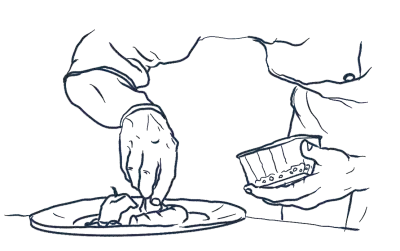 Cooking is a love story, to respect the produce and delight your taste buds
Cooking is a love story, to respect the produce and delight your taste buds
Hugo LORIDAN-FOMBONNE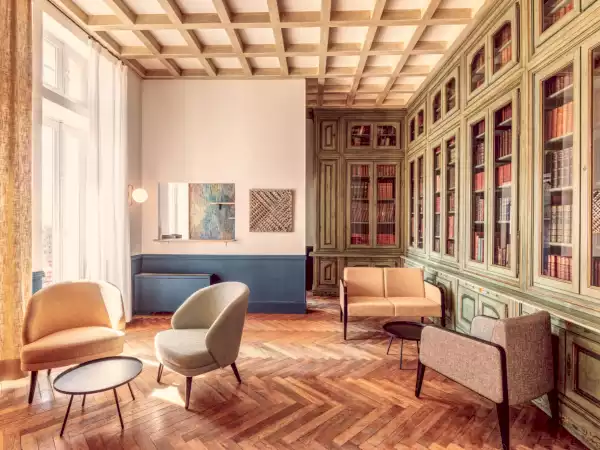 A convivial space for exchange
At the bar, we will provide you with different aperitives and wines to accompany a dish made of delicatessen meats, cheese and salad, while waiting for lunch or dinner in one of the castle's lounge or on the terrace for non-residents or even next to the pool for the hotel guests.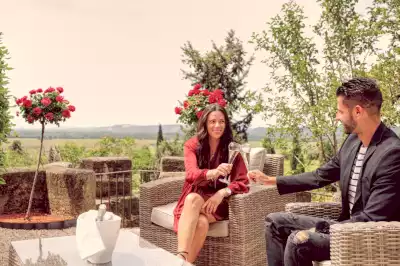 Une vue panoramique et romantique
The terrace is facing the estate, vineyards and cypresses. Enjoy the view on Mont Ventoux, Avignon and the lovely village of Châteauneuf du Pape.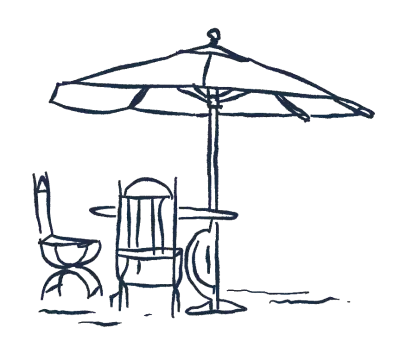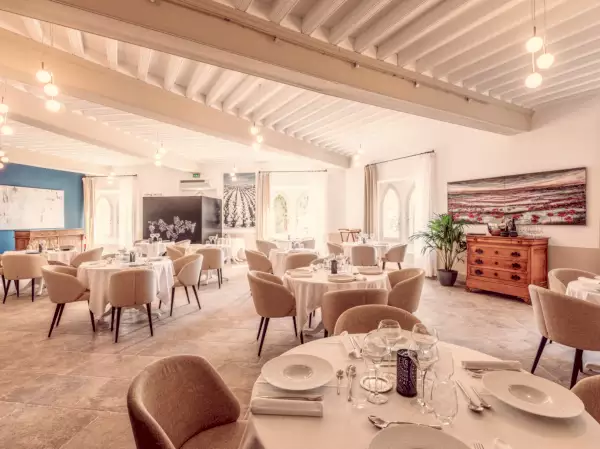 Pleasures of a castle's life
A warm welcome, a delicious cuisine in the entirely renovated restaurant room. The french art de la table, in a quiet atmosphere, with staff at your disposal.